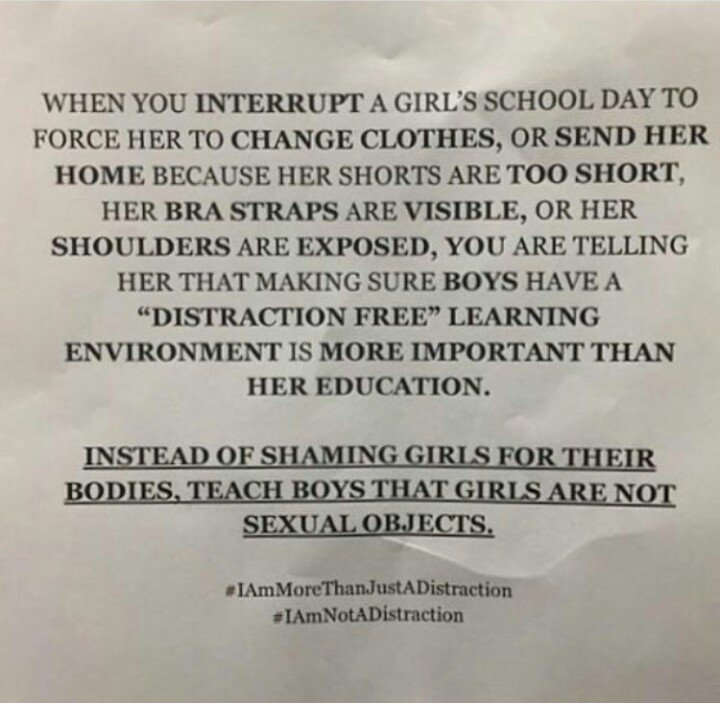 School Dress Code. It's quite a hot topic at pretty much any school that has a dress code. The most frustrating aspect of most school's dress codes is the attitude taken toward female students.
The restrictions placed on girls' outfits can be numerous. There are restrictions on girls tops, in case their shoulders are too inappropriate to show in broad daylight, or, god forbid, her bra strap shows. Because the fact that many females wear bras is a secret that the female population must keep under wraps for the protection of adolescent teenage boys. Or, even worse, girls don't wear a bra. Because male nipples are okay, but female nipples are a crime?
There is also the problem of shorts, skirts, and dresses. Too much of the thigh can't show, because, as everybody knows, the skin on ones upper thigh is completely different than the skin on the knee, calf, or arm. Even butt cheeks! Everyone has them, crazy right?
All jokes aside, no one is expecting the school system to allow students to wear whatever they want, be it their birthday suit or a pant suit. But schools do need to recognize that modern fashion does not fit into what many school's dress codes allow, and if they're expecting female students to dress in Bermuda Shorts (YUCK) and long sleeves as to not "distract" the other students from learning, here's a tip: stop sexualizing female bodies and treating them as a distraction, because a girl attending school should not be thought of as a "distraction" for dressing in modern clothing.