When I was five, my mom bought a silver iPod with bulky, rounded corners and a perpetually dirty screen. I would always listen to her vast array of songs while sitting in a shopping cart at the grocery store or in Walmart. On special occasions, like my birthday and Christmas, she'd let me pick songs that we could buy the music videos for. And more times than not, I'd pick a song by Taylor Swift.
Back in her country days, Taylor Swift was a drama-free, curly-haired bundle of joy. I thought she was just the coolest anyone could get. However, as she got older, (and I as well) my opinion of her changed.
I grew up with my sister constantly educating me about different aspects of feminism, from the everyday struggles of women of color to how to have inclusive discussions about class, race, sexuality, and gender. So, when Taylor Swift proclaimed herself a feminist, I was excited to see what a person with her following could inspire. To my dismay, her "feminism" did the opposite of inspire.
In fact, recent studies have shown that when a major celebrity calls themselves a feminist, it makes people care less about feminism. Feminism has become a hot topic of discussion over the past few years. When a celebrity talks about feminism, it usually is just to build their image, not to bring awareness to its issues. Even if Taylor Swift is a feminist, some things she does demonstrate outdated views in equality, as feminism changes every day.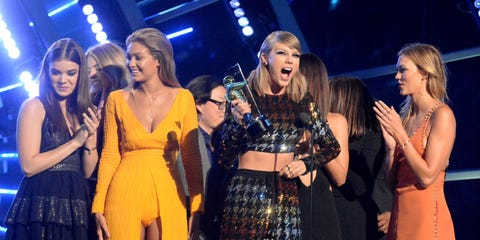 For example, while her "girl squad" may promote girl power and sticking together, to many in Hollywood it is just like a high school clique. Stars, such as Miley Cyrus and Chloë Grace Moretz, have spoken out about it. One such star is the Disney star, Rowan Blanchard, who said, "The 'squads' we see in the media are very polarizing. Feminism and friendship are supposed to be inclusive, and most of these 'squads' are strictly exclusive. It makes feminism look very one dimensional…'Squad goals' can polarize anyone who is not white, thin, tall and always happy."
Mostly, this band of models and singers is just a way to uphold Swift's pristine image. I mean, if Swift were really about girl power than why would she use her group of friends to diss other women, like in the "Bad Blood" music video?
As a women who believes in empowering other women, Swift is in plenty of celebrity feuds. With a list including Nicki Minaj, Katy Perry, Kim Kardashian, Miley Cyrus, Lady Gaga, among others, she can't just be an innocent girl getting bashed on. Naturally, people are going to disagree on social media, but the fact that remains is that Taylor never really owns up to her mistakes, and yet she still has a pristine image in the eyes of many.
Finally, she doesn't have the best track record with treatment of people of color. The reason she invited Zendaya and Serayah McNeil (two very successful women) to be in her "Bad Blood" music video, was probably because she had recently been called out for only having white friends. In her "Shake It Off" music video, she had black women twerking all over the camera, but no black ballerinas. Of course there would be black girls twerking in her music video, but generally that form of dance isn't seen as very classy, as opposed to ballet. Ballet is graceful and fluid, and there are plenty of black ballerinas that could be included. In Taylor's "Wildest Dreams" video, which is literally set in Africa, there was not a single black person. While these examples aren't very apparent and could be skewed in many ways, they reflect the microagression that people of color experience on a daily basis.
With all this said, I really hope Taylor's feminism grows in the future. It's been quite a while since she's been on tour or released new music, so maybe she's taking the time to think of new ways to help educate the masses about inclusive feminism.