Winter.
She placed a steaming mug in front of him on the chipped mosaic table. He could see her hips, just at table height and just below the bottom of her large jacket. As she moved to slide into her seat across from him, her scarf drifted away from her body, offering a silvery black contrast to the white atmosphere.
Stop.
He looked up, taking advantage of the frozen moment. Just behind her, outside of the awning, the snow hung suspended and the people braving the weather were stopped mid-step, mid-word. The steam curling out of his mug was frozen, cloudy glass.
Thinking back in this pocket of non-time, he could not quite remember the steps he had taken to reach this point. How exactly had he begun a conversation between the two of them, or had he not started the conversation at all?
He could remember they had met in a pocket of Indian Summer, he could remember what song had been playing, "It's Never Over (Oh Orpheus)" — Arcade Fire, he could remember what she had been wearing, a pair of cuffed denim shorts and a burnt-orange t-shirt, a messy ponytail and a pair of well worn sneakers. He couldn't remember, however, most of the rest of it.
He started at her feet. She was wearing heavy-soled boots, that despite their size did nothing to make her feet seem clownish. Her socks barely peaked from the stiff tops, a light grey knit line-break between the black boots and the black jeans, undoubtedly worn over another layer. He could see her blue-black sweater peeking out below the hem of her jacket, flaring out a little bit.
He continued upward, taking in the puffy jacket that dwarfed her, her hand – frozen midway to her pocket. He paused just a second longer to take in the fall of the jacket, the stolen movement of her arms, the way that her fingers curled around her own mug, the uneven crescent moons of her fingernails.
How had he gotten here? How had he gotten to the point where he could just stare at her and that would be enough? How had he moved from point A to point B? From seeing her serve coffee in a small hole-in-the-wall cafe, to not wanting to miss a single minutiae?
He looked over the folds of her scarf, piled high on her neck, he watched the shadows fall rightly. He followed the fuzz of the scarf upwards to her neck where a flush had crept up toward her face. He followed her jawline from right to left. Her lips —
Start.
She slid into her seat and her scarf fell back into place against her torso. The snow fell, again. All the frozen mid-steps became the movement of the next. He jumped a bit, a shiver riding up his spine. The milky glass above his mug had once again become nothing but vapor. She brought her mug to her lips and stared out from the awning. Now he could see her breathing, there was a small furrow between her brows.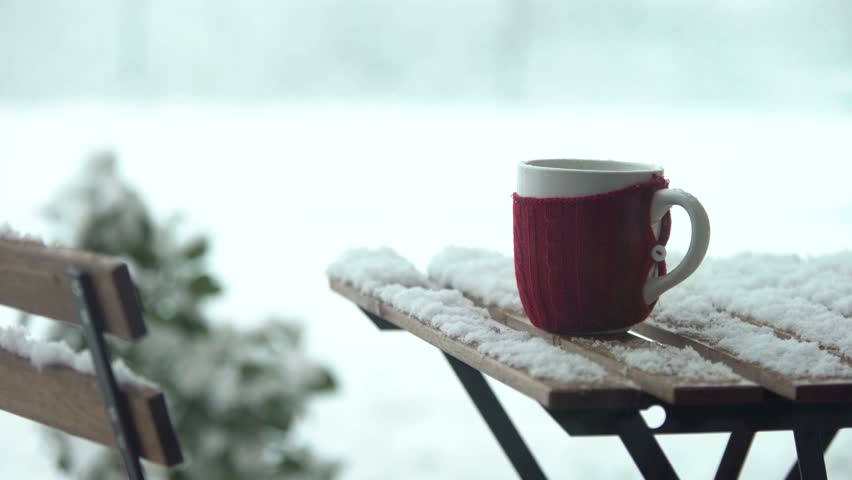 With time now moving he could feel it, a warmth spreading from his heart outwards, a soft tingle from his eyes was working its way down to his toes, while sparkishly light fingers wound around his shoulder blades and rib cage, he would stop time again just to enjoy the sight of her, to will her to understand everything he felt.
"You are everything," he whispered, testing how it flew from him into the corporeal world.
"Hmmm?" She hummed.
His words, like ducklings pushed from a nest, fell into the mugs between them, unheard and on their own, paddling away from him. She turned to look at him. He was stunned. Her attention was like a blow to his chest. Her eyes, it was all in her eyes and the small grin that dimpled the left side of her face.
How did he get here? How could so much of him rely on her? He looked down at his mug, at the dark coffee there, the light steam curling out of it. Like coffee and steam: warm, rich, and velvety, that was how they were. Coffee and steam, energy and complement, she was warmth in the cold.
He looked up again, "I love you."
His words this time flew gently across the mosaic table to land in her mug as she brought it up to drink again, to hopefully bring the flush back to her face.
∆∆∆