I watch a channel on YouTube called Yes Theory.
Their entire philosophy is based on the premise that when we start to say yes to things, we open ourselves to experiences that would never have been possible if we had said no. It encourages its followers to be spontaneous and preaches the idea that strangers are just friends you haven't met yet.
To live out this philosophy, the main people involved are three 20-something, friendly, and fit guys who travel around the world and complete challenges based on the spontaneity and kindness of strangers.
In their latest video, one of the guys is abandoned alone in Slovakia with no money and no phone, where he must attempt to return to his friends in Budapest.
I love everything about this channel and I hope someday I can live my life in a similar fashion.
But, I know this isn't as realistic for me. Simply, because I'm a woman.
The thought of being dropped off in and exploring a random country sounds like a dream. The thought of being dropped off alone in a random country sounds terrifying.
I hate that just by being female, doing anything becomes more dangerous. I am a strong believer that a woman can do anything a man can. While that is true, it's also true that women have to take a lot more precautions than men do.
I read a study that asked groups of men and women about the things they do in their everyday life to avoid being assaulted. The responses from women went on for pages. For men, there was one answer: "Nothing. I don't think about it."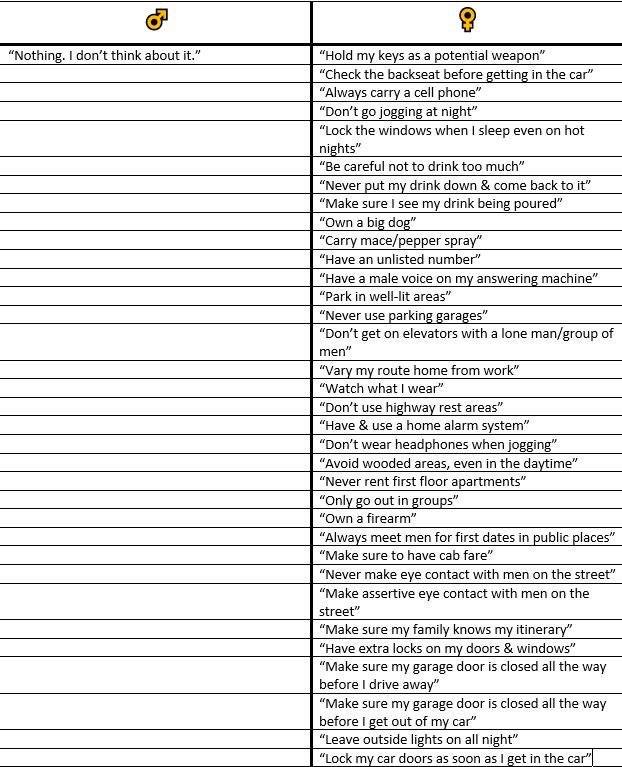 Words cannot express how much I wish this weren't the case, how much I wish men and women were really, truly equal when it comes to things like this.
I wish that my mom didn't have to worry about me going to the beach with my girl friends at 5 PM, even though she is fine with my older brother going to the same place with his guy friends at one in the morning.
I wish that women weren't twice as likely as men to experience sexual assault or violent crimes.
I wish it weren't like this, but it is. And let me tell you, it sucks.
To any men who are reading this, appreciate the fact that you don't have to make sure you have your keys in your hand when you're walking to your car at night. Be grateful that when you're running by yourself and a truck drives behind you, you don't have to stop to let it pass so that you can see what it is doing. Remember that there is a reason why girls always go to the bathroom in groups.
Tell this to your sons. Make them understand what it's like. Teach them how to make women feel safer.
Maybe someday we'll live in a world where a young woman can walk through a city alone, the only thing on her mind being how grateful she is to be there, and her biggest concern being what she will eat for dinner.
That's all we want.