In the past couple of years, everyone and their brother, mother, and sister have made some outrageous statements about how Web 3, Crypto, NFTs, and the Metaverse are going to be the future of everything. At first glance, it seems very true, NFTs can help artists' rights, Web 3 and Metaverse will decentralize the internet, and Crypto will decentralize currency, it'll all be great!
Or so everyone thought. I find it pretty astounding the number of people that were really convinced that it was all gonna work out swimmingly. Sure, I'm happy to admit that at one point I saw more of the advantages in this whole scene than disadvantages, some really cool things have come out of this whole boom. The DAO that tried to buy the constitution(which was completely undermined by the ETH fees), and NFTs that allow access to a restaurant or a real club were all really interesting innovations in the Crypto World. However, in the past couple of years, it has all become an absolutely insufferable party topic for Tesla and Silicon Valley bros alike. Everyone who heard about it on their favorite podcast just had to take it to themselves to mansplain it to every other person they see. The culture around this whole thing just completely devolved into DogeCoin bros and making their ugly bored ape their profile picture. It definitely has cool art but a floor price of 100 ETH is genuinely criminal.
Not only that, but everyone and their mother who had the money to do it completely took advantage of the lack of laws surrounding this whole scene and absolutely screwed, scammed, and crushed everyone involved. Yes, I am talking about Elon Musk and DogeCoin. If you still believe he actually believed in Doge and wasn't just doing it to pump it and dump it, you are gullible. Pump and dump schemes were coming out the wazoo, to the point that they gained enough traction to involve influencers such as members of the FaZe Clan. Similarly, popular influencers alike such as Logan Paul were making lazy NFTs and charging thousands of dollars in ETH for an unoriginal picture of a Pokemon with absolutely no exterior purpose or club. And Logan Paul isn't even close to the only person that has done this.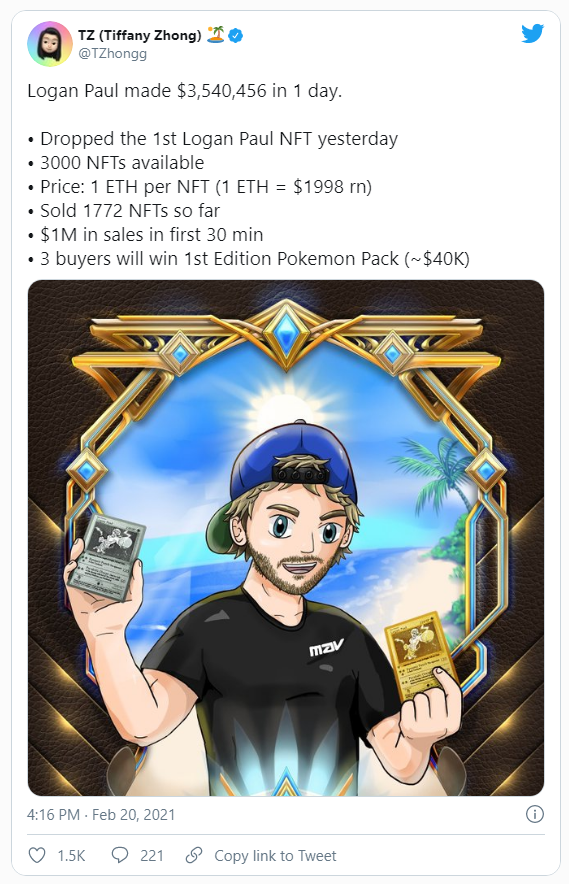 Similarly, everyone has all these high hopes for the Metaverse, but 12 different companies are trying to make their own Metaverse and have made no significant progress. I mean have you seen the Facebook/Meta trailers of their Metaverse it looks so bad. It literally looks like an animated children's video it is so ugly. Not only that, but Mark made the whole experience seem so underwhelming. Similarly, the Metaverse is realistically going to look and feel nothing like what these corporations are making it out to be. There's going to be dossing out the wazoo, server issues to rival most Ubisoft games, and more microtransactions than the entire battlefront series I mean imagine what TenCent and EA Metaverse games are gonna be like. Not only that, but Mark's version of the Metaverse displayed a very calm and normal conversation which I can assure you there will be none of in the Metaverse, it's going to be a glorified VR Chat Lobby.
Overall, although the Metaverse, Web 3, and all of its capabilities seemed exciting at first, the lack of legislation and the fact that only big corporations are trying to take over the space completely murders the hype of all of it. The goal of Web 3 has completely disappeared and has just devolved into a disappointing mountain of pump and dump schemes and faulty technology.