Read pt. I here and pt. II here. — (music)
Spring.
The light filtering into the kitchen was the type of gray-white light that made her glow like a goddess. She was fastidiously picking through a bowl of cereal for the fruit, too focused to really care about the food. He came and placed a hand on her shoulder, stilling her arm, he tiptoed his fingers across her collarbone to her other shoulder and pulled her in, his bicep laying gently across the top of her t-shirt, his hand idly playing with the hem of her sleeve.
It was still chilly outside and he could see a mist drifting by the window, the grass looked like blades of pure emerald. Rich and dark, sharp in comparison to the fogged and blurred weather. He glanced down into the grass under the window, he could just see the tale of a garden snake, he had begun to think of it as his pet this last month, disappearing into the grass. He tapped her twice on the arm.
"You okay?"
"Yeah, I'm just trying to find the right words," she hummed.
∆∆∆
As the weather had warmed she had grown colder and colder. The spread of tingling embers that always started in her ribs and shoulders, that radiated out when he was near her, faded into cool pinpricks, like rain or snow. The clock had ticked out the final seconds: tick, mine; tock, mine; tick, mi– and then it was gone, the ticking of the clock was gone. They were no longer tied together, something no longer felt right.
So she found a way to say goodbye.
∆∆∆
He knew he shouldn't. But he did.
Stop.
He couldn't help it. He had to look at her one last time, to look back on her like he always had, if only he could have walked the road in time, he could have let the music of what tied them together play as a reminder that she was there, she was real, she was his. But he had to stop — look.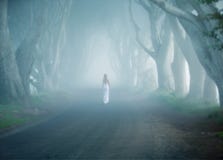 Today she was in white — she never wore white — mourning. She was frozen mid-stride, a raindrop stopped just upon impact with her nose. He reached out and hugged her fiercely, angrily. Wildfire's searing nails dragged down every nerve in his body. If only he hadn't looked. If only — he stared at her eyes: cool, unwavering, timeless. He bent down to her —
Start.
He was back in the doorway his back to her, turning away. He tried to spin back, feeling like reality had finally slowed to meet him. He turned just in time to watch helplessly as she slipped away, pulled by an unseen force.